May, 2007
Asian Art Conference, May 2007
Aicon Gallery NY In Collaboration with Columbia University Art History Department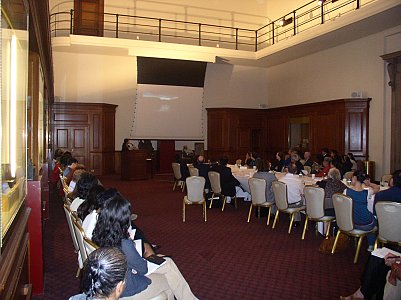 Download PDF (52 K)
Modernism and It's Discontents
Modernism and its Discontents, a conference on contemporary Asian art, organized by Partha Mitter (Sussex University), Aicon Gallery and Columbia University's Art History Departmen took place on May 25-26th and commenced by examining the current market boom Asian Art has generated. Both Mitter and Wu Hung asked whether this phenomenon is indicative of a new paradigm shift. The conference would have, of course, been completely non-lucrative if the answer was, 'no'. Panelists expressed their unanimous discontent with the western confines and bias of modernism and investigated alternative methods to critically assess the field.
Subsequent to presenting the major questions that pervaded the next two days, a panel of artists discussed their work. Mrinalini Mukherjee presented various modes of practice – from knitted sculptures which dismantle the traditionally domestic act to her works in bronze. Their organic nature served as the common thread. Shazia Sikander was quick to point to some flaws within art theory. She highlighted the dangers of pigeonholing an artist and the oeuvre within an essentialist interpretation, namely her works as inextricably linked to the Pakistani miniature tradition. She labeled such practices 'boring' and the task of breaking this mold, 'laborious'. Chen Qiulin, on the other hand, grounded her work within a rather geo-political context and suggested that one will inevitably encounter labels . The pairing instigated healthy and productive debate.
In the second session, Alexandra Monroe, the first curator of Asian Art at the Solomon R. Guggenheim Museum of Art gave a presentation on a major upcoming exhibition with a rough draft title, American Art and the East. Monroe outlined a survey-like display (spanning some 150 years) which planned to utilize the entire museum space. Nora Taylor reflected on the gender of modernity in Vietnamese art.
On the last day, panelists offered unconventional ways to think of modernism. Ming Tiampo noted how the avant-garde Japanese collective, Gutai, actually anticipated movements like Performance and Conceptual Art. Feri Dafteri outlined the development of modernism in Iran and how it subverts the progression towards abstraction as the ultimate modernist end. Although not an art historian, Benjamin Conisbee Baer was invited to speak about Bengali literature. He disrupted the uni-directional view of influence between East and West by nuancing its primitivist interpretation with a more socialist bend. Mary-Ann Milford advocated for change in Indian art and presented women artists who used the body as a vehicle to that end. And finally, Saloni Mathur kept us all wide-awake by vividly connecting a project Vivan Sundaram executed some fifteen years ago – works done in (kerosene) oil – to international politics today, namely the supposed War on Terror.