RODS AND CONES (AMIDA)
Baiju Parthan
March 4, 2010
$1,000

ARTIST'S STATEMENT:
The "Rods and Cones" print series explores the tension between our biological limitations and the technological and ideological constructs that are symptoms of our hunger to transcend these same limits.
The human eye contains two types of photo-receptors, rods and cones. The rods are more numerous, some 120 million, and are more sensitive than the cones. However, they are not sensitive to color. The 6 to 7 million cones provide the eye's color sensitivity.
'Amida' is a study of the Amida Buddha of Kamakura, again rendered through a 3D geometry array that mimics the rod and cones of the human eye.

To buy over the phone, please call 212-725-6092.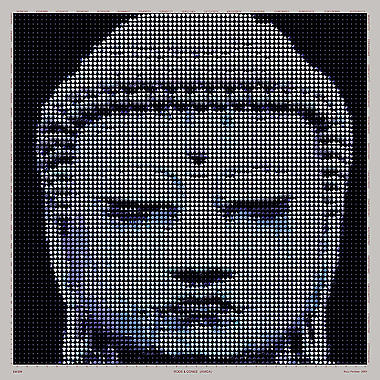 2009
Print on metallic paper
15 x 15 in.
Edition of 75 + 5 artist proofs
Ed 1-25 $1,000, ed 26-50 $1,500 and ed 51-75 $2,000
Price - $1,000
Shipping - $100
For all New York State sales, NYS Sales Tax will apply.
Shipping and taxes will be charged to your card later.