INDIA SHINING 10 (GANDHI ON A RECLINING CHAIR)
Debanjan Roy
March 6, 2010
$2,000

ARTIST'S STATEMENT: Gandhi as a Metaphor
India is a euphoric mix of all kinds of forces. This churn creates the strangest of combinations. In my "India Shining" series, of which this edition is a part, I try to find humor in these, often incronguous, mixes. Mahatma Gandhi, who I deeply respect, becomes a metaphor for an India of austerity that is fast disappearing. In my work he keeps running into, and adopting, the ways of the new, materialistic India. I try to convey the notion that while many of the new-fangled ways may have been alien to the old India and sit a little awkwardly, that Gandhi's India is, nonetheless, open and receptive.

To buy over the phone, please call 646-205-2703.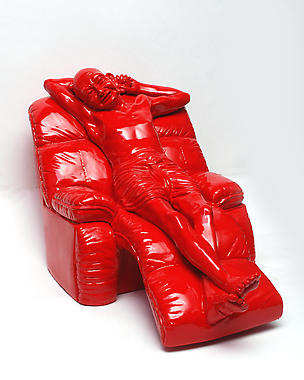 2009
Fiberglass and automotive paint
18 x 10 x 10 in.
Edition of 75 + 5 artist proofs
Ed 1-25 $2,000, ed 26-50 $2,500 and ed 51-75 $3,000
Price - $2,000
Shipping - $100
For all New York State sales, NYS Sales Tax will apply.
Shipping and taxes will be charged to your card later.