CHINTU
Chintan Upadhyay
March 2, 2010
$1,000

ARTIST'S STATEMENT: Head of a Baby
Heads have a great significance in Indian myths - when Ganesh's head was accidentally severed, his life was preserved by transplanting a baby elephant's head onto his body. Rahu and Ketu, Indian Castor and Pollox, are always represented by their heads, we never know what their body looks like. Ravana's awesome power is manifest in his multiple heads. Heads, then, become a symbol for all of life. When that head is of a baby, it becomes not only this representation of all things around itself, but also a place where hopes, desires (and despair) of an entire generation are projected.

To buy over the phone, please call 212-725-6092.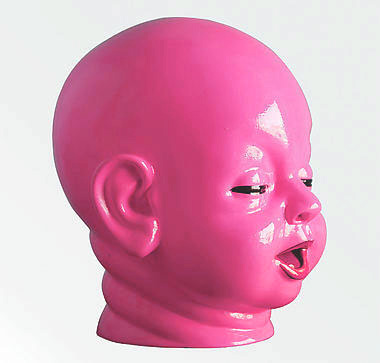 2009
fiberglass and acrylic paint
7 x 7 x 8 in.
Edition of 75 + 5 artist proofs
Ed 1-25 $1,000, ed 26-50 $1,500 and ed 51-75 $2,000
Price - $1,000
Shipping - $100
For all New York State sales, NYS Sales Tax will apply.
Shipping and taxes will be charged to your card later.